Page is updated the 8 of March 2022
Hälleviks Harbour – a Blue Flag harbour for guests and members of the boatclub
The harbour is the center of the village Hällevik. In the village we have seaside resort, outdoor swimming pool, fishmonger, cafe, restaurants, hotell, fishing museum, art galleriers, nature reserve, tennis courts, bangolf, culture events, jazz festival, camper-area etc.
Page content
What you find in the harbour
Public transportation
Links to pages about Hällevik, sea rescue, shipyard etc
What you find in the harbour
Contact: telephone number +46 456-57080 email: info@hallevikshamn.se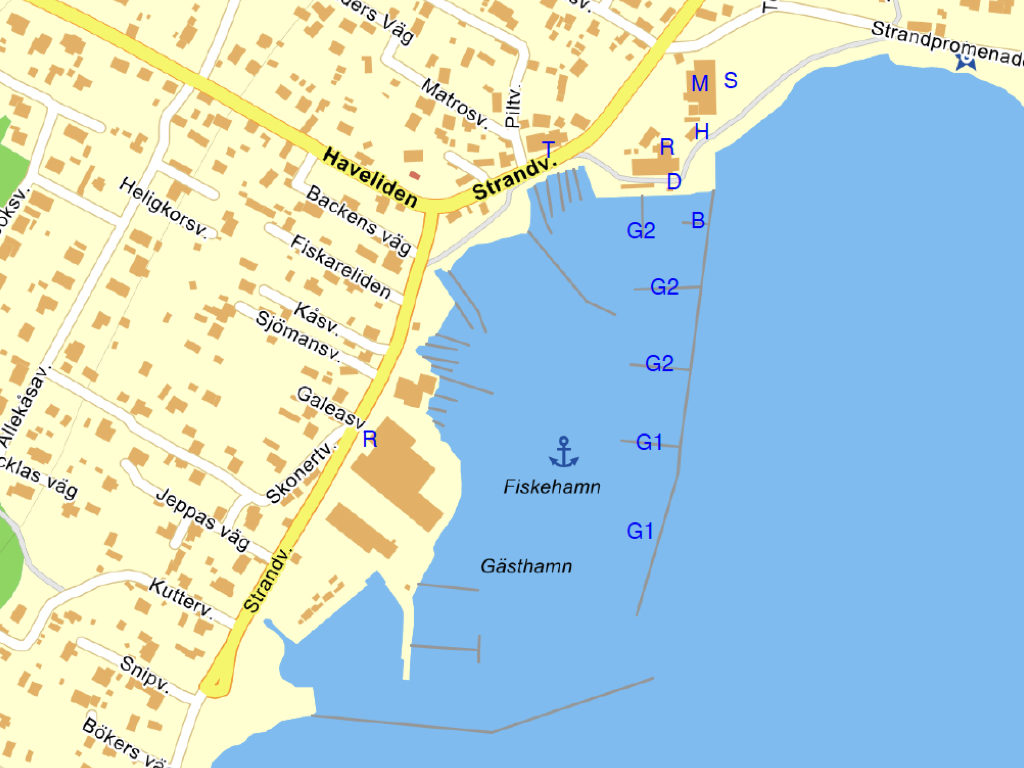 H Harbour office, "paying machine" for boats and campers, toilets , showers, washing machines och turist information
G guest places G1 all places and G2 is "red/green" places
B Drive In boat wash
D Diesel refueling , Latrin station, Derrick and Slip (all self-service).
M
R  Restaurants, fishmonger and smokehouse
S  Camper-area, closed during the jazz festival (beginning August)
T Bus stop. To Sölvesborg for more information Blekingetrafiken
Hälleviks harbour is well protected from winds and waves. Protected by piers and with y-bars at most places. For the larger boats there are places along the piers. Water, electricity and wifi at all places.
Boat bottom wash by RentUnder for both motor and sailboats with a maximum size of 12x4x1.8 meters. The boat's width in the waterline may be max. 3.4 meters. Contact harbour host for service (+46 456-57080).
Public transport to and from the harbour
During the summer there are good parking spaces at the parking place for motorhomes (S). (However, not during the Jazz Festival in early August)
By bus you can easily reach the city Sölvesborg, line 2. It takes 20 min and about 1 trip/hour during summer. From Sölvesborg trains go to Malmö, Kastrup, Copenhagen and the cities of Blekinge. For the tour list see Blekingetrafiken .
The nearest health center is located in Mjällby.
Links to pages about Hällevik, sea rescue, shipyards etc
More info about the museum and other attractions in Hällevik
The nearest shipyard is in Nogersund (can be reached by bus) MMG marine